It's time to ask the tough questions about Clanview!
As a family history researcher, you invest time & effort learning to use research software that gives you access to all the in-depth data you want – but what about everyone else?!
Why Should You Use Clanview?
Because traditional family history printing methods simply don't work: family tree printouts are cumbersome, difficult to share with others and don't include ancestor stories.
Clanview was purpose-built to share family history with "the layperson" and to collaborate with other researchers that use different research software.
Clanview works with the majority of research software:
Solve printing and publishing headaches.
Share family tree and ancestor stories in a useful and engaging way.
Collaborate with others to track down ancestors – without them ruining your data.
"I'm 'Old School' - Clanview Looks Too High Tech For Me!"
If you can use Google Maps, you can use Clanview!
You simply use Clanview instead of using your printer, creating a PDF or involving a book publisher. Your Clanview Account provides step-by-step guidance to publish a Clanview in just minutes.
The published Clanview 3D Family trees provide tips on how to use it and displays a visually intuitive model to interact with. Explore it yourself or send it to others to be opened and explored instantly on any device.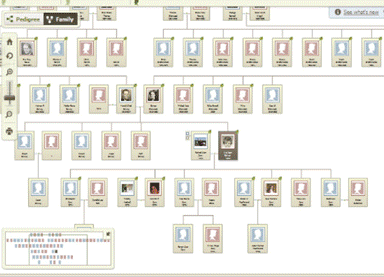 What does "sharing a published Clanview" mean?
A "published Clanview" is a "snapshot" copy of your family history displayed as a 3D Clanview Family Tree inside its very own web page.
Each published Clanview has its own unique web address. This is a randomised series of characters that makes the web page address (URL) – it's impossible for anyone to guess but easy to share with trusted recipients.
You share each published Clanview in exactly the same way you might share a web page – that is, you send someone the web link (URL) and they can open the web page temporarily within their web browser to explore on any device.
"Can other people change my family history data?"
No. You use your personal account to transform a 'snapshot' copy of your family history data into an interactive, sharable, unique web page. You have full control over this page – only share it with people you trust and any recipient can explore the data but can't change it.
"What happens to my family history data that's used by Clanview?"
Only a copy, aka "snapshot", of your family history data is required to publish a Clanview and it is used strictly for exploring your family history as a Clanview 3D family tree. We will never use your family history data for any other purpose or share it with anyone else.
And remember, you can delete any previously published Clanview, and its family history data, at any time – therefore preventing anyone from viewing it.
What about personal identification information for living people?
Clanview does include living people in the family tree but expects their personal information to be excluded. If valid dates are provided for all people in the family history data, Clanview will make a best effort to remove their personal identification information automatically. Each Clanview is then available for the researcher to check first before sharing with anyone.
"What if I need help with Clanview?"
Our Support Team is here to help. Clanview support is just an email away and we will be happy to assist you with any question you may have.
"What if I'm not happy with Clanview?"
We will happily refund your money within 30 days if you re not completely happy with your purchase.