Features
Clanview asks you to think differently about publishing and sharing your family history in order to reach the hearts and minds of those that matter most.  Here are some of Clanview's features that will help you breathe new life into your family history.
Compatible but Independent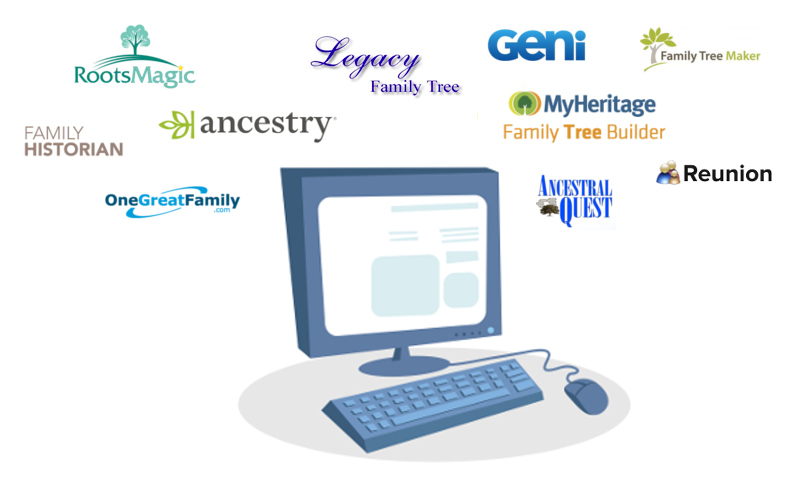 Clanview offers a  new way to publish your family history – one that doesn't involve a book publisher, generating dry reports or website development.
Simply use the family history data you have already gathered in one of many possible genealogy research programs – old or new.  If you can't use Clanview with your data we will happily fix it or refund your money.
Once created, your Clanview model can be shared with trusted recipients, and explored independently – free from all research applications and online services.
Everyone can be the Centre of Attention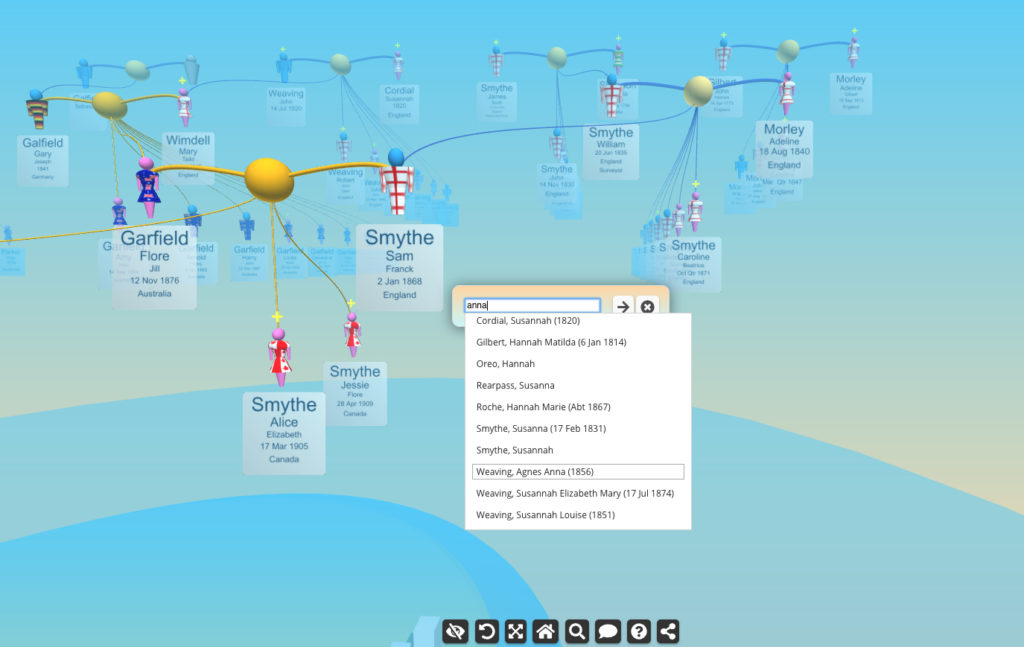 Clanview is designed to connect with every family member that explores it.
We believe that everyone, even those people with just a general interest in their family history, need an instant and engaging way to explore their ancestors no matter what device they use.
You can share your Clanview so that the recipient will open it and see them self front & centre – immediately identifying with ancestors to start exploring.
And the simple Search feature allows any user exploring Clanview to quickly find anyone in the tree and and make that person the centre of attention.  No need to scour a printed hardcopy trying to find connections across a labyrinth of lines.
And support for touch devices means that smartphone and tablet users have a 3D family tree they can tap, zoom and rotate to intuitively explore family relationships and stories.
Scratch the Surface to Reveal More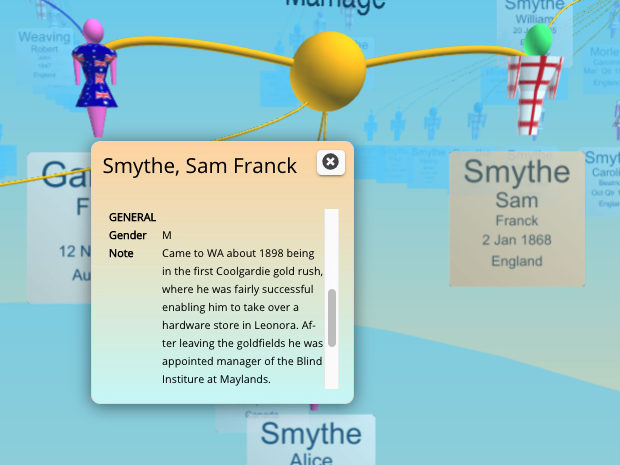 Each Clanview is created by simply using the family history information already collated by the researcher, but Clanview deliberately hides the details that can easily overwhelm the casual viewer.
But what if someone wants to know more?

Any relative exploring Clanview that wishes to dig a little deeper simply needs to tap or click the ancestor's information card to reveal a scrollable window containing the extra information and stories that relate to that person.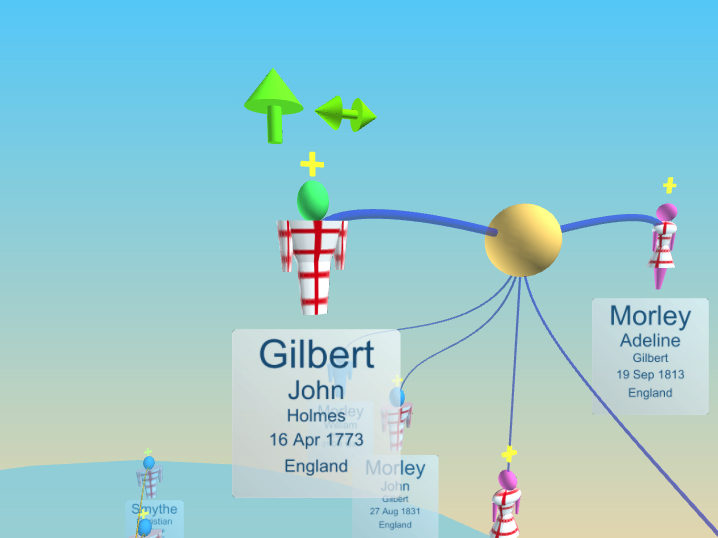 Clanview does not try to display everything at once – not only does this confuse the user but it presents a lot of irrelevant information.
When exploring Clanview, some ancestors may appear with a gold "plus" sign above them, indicating there are more relatives to see.
Selecting this person reveals one or more green navigation arrows that can be double-tapped to reveal more ancestors, more descendants or perhaps multiple marriages.
In this way each user finds their own path through ancestors of relevance and interest to them.
Encourage Feedback you can Control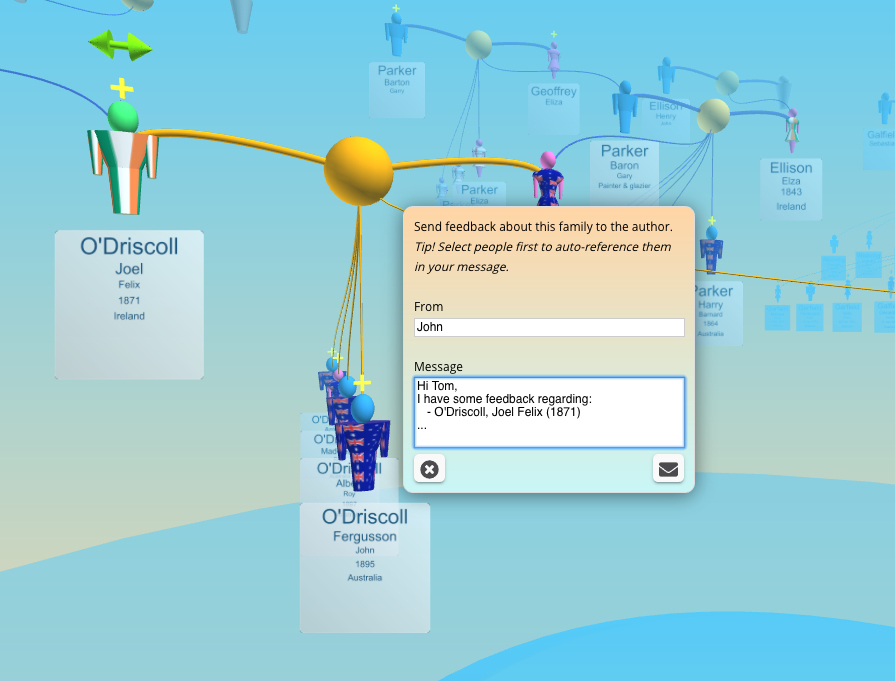 Clanview is a read-only view of your family history that provides the ability to share your family history and not only encourage feedback, but control it.
A convenient "Feedback to Author" function is built in to Clanview allowing each recipient to send you comments about people they have selected.
Feedback is received by email to then be validated so there is no more sharing and merging data that includes mistakes or unverified information.
Balance Security with Simplicity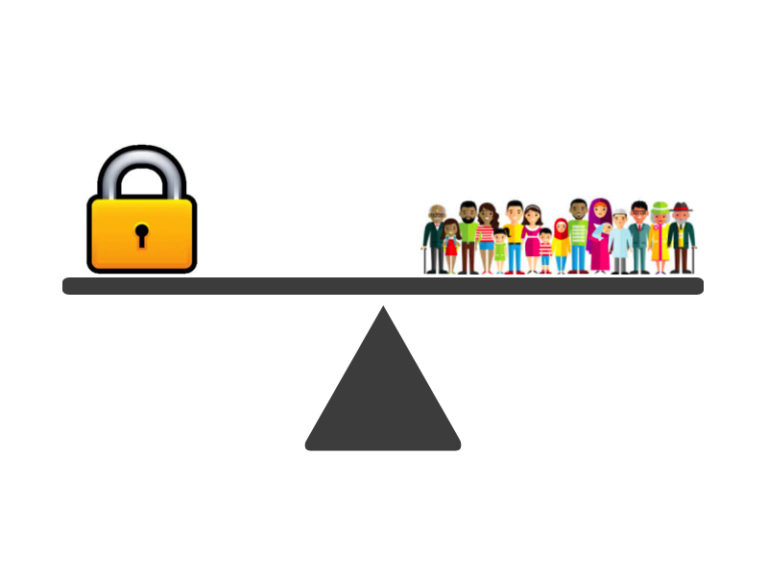 Clanview strikes the balance between ease-of-use and security – combining an intuitive user experience with safe, effective sharing.
Each Clanview is published in its own unique web page – a special web address (URL) that's impossible to guess but easy to share.

As long as valid dates have been entered for each person, Clanview will automatically exclude personal information about living persons.

You review your published Clanview before any sharing takes place.  If you're not happy with it, simply delete it, fix your data and publish again.

You choose which trusted individuals you share each unique Clanview with privately.
Clanview has multiple security measures in place to keep your data safe and uses premium website security tools for protection.
Clanview has a very strict data privacy policy that limits the use of your data solely for the purpose of creating and displaying a Clanview model.
Convenience without Obstacles
Clanview knocks down barriers imposed by other genealogy software that requires participants to also create accounts, buy software or own personal computers to be involved.
Clanview delivers instant results conveniently into the hands of family members and collaborators.
Relatives with only a casual interest
Smartphone and tablet users
Part-time family history hobbyists
Enthusiastic / expert / advanced genealogists
Time-poor workaholics
Young, middle-aged and older generations