Did you know Clanview can help you create a family history website?

It's the perfect tool to deliver your website solution or enhance it.
Here are 3 easy ways Clanview can help.
Option 1: Fast and Easy for Anyone

Simple. Just use our normal Clanview publishing and sharing service.
In terms of setting up a website, there's nothing for you to do.
We handle everything:
No web hosting setup and charges
No website development
No maintenance and management
After you publish your Clanview 3D family tree, your secret web address is all you need to share it privately with others. They can open and explore it instantly.
Option 2: Use the Clanview Link

If you have already created a website or a blog, here's a simple and engaging way to let visitors explore your family tree.
Just add your Clanview's special link to one of your pages.
Here's a working example of how the page might look:
Our Brief Example
Welcome to our example. Click on Explore Our Family Tree to open and explore our shared Clanview 3D Family Tree.
Enjoy!
Option 3 (Advanced): Embed the "Clanview Explorer" in Your Own Web Page

More advanced users may want their page to look a little more special. Why not embed the Clanview Explorer in one of your pages?
This option provides an exciting visual preview of what others can explore.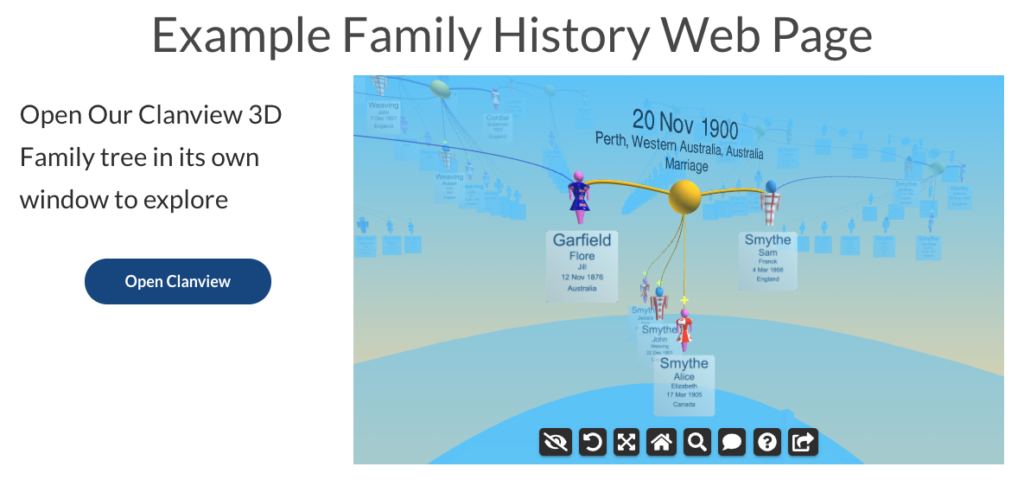 Here's an example of the HTML you could use to embed the Clanview 3D family tree in your web page, as shown above.  This piece of code can be broken down as follows:
iframe – The "inline frame" component that displays the web page containing the Clanview 3D family tree.
height – The iframe attribute that sets the iframe height.
src – The iframe attribute that specifies the special Clanview URL that's unique to your published Clanview.
<iframe style='height:450px' src="https://www.clanview.com/explore/clanmodelview.html?modelid=da2848cd-32e7-4a26-b436-655bbc0da711">
Use your Clanview Free Trial to try any of these options right now.